Why build your 3d printer yourself? Because you can customize it to match your needs and budget. And because you can. Building a DIY 3d printer nowadays is hardly more difficult than assembling a PC.
I have built 4 DIY 3d printers and I have moded 2 Creality printers for better performance. From my experience, I can say that upgrading a budget printer like Ender/CR-10 to a fully capable machine (linear rails, hotend, extruder, enclosure, etc.) is in the end more expensive than building a new more performant DIY 3d printer with the right components. Upgrading and DIY are not for everyone though, here are the pros and cons to help you decide:
Pros
DIY 3d printing is open-source and community-driven
A DIY 3d printer allows buying the right components from the start vs. investing in upgrading an existing printer
Because you built it, you'll master the maintenance and the operation
DIY is fun you can share with family and communities
Total satisfying nirvana when it finally delivers a benchy.
Cons
Long lead time to your 1st print. You'll have to plan, source components, print parts, forget things, and wait again… As with any project, it is a process with stages and steps and it takes much longer time compared to buying a preassembled printer from the shelf
Building a 3d printer requires basic technical and soldering skills, understanding and respecting the safety measures related to working with electrical equipment and mains voltage.
This review is focusing on best-performing DIY 3d printers, however, if your objective is cost-cutting, look at Thingiverse for basic printer designs.
Voron Trident / Voron 2.4 R2
Voron Trident and Voron 2.4 from VoronDesign are excellent enclosed CoreXY DIY 3d printers. They deliver similar performance and print quality. The Trident is easier to build and maintain, while the 2.4 is a true engineering marvel with its quad gantry leveling and static build platform. The 2 printers share many similar parts and build volumes. The user has a choice of hotends, control boards, extruders, and toolheads. Voron supplies manuals, STLs for 3d printed parts, sourcing guides, and support through Discord.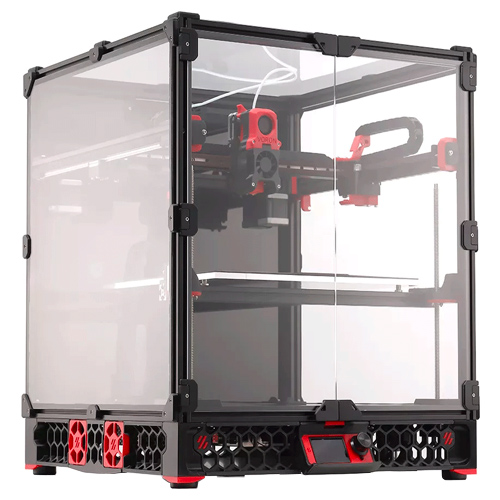 Firmware: Klipper
Print server: Raspberry Pi with Octoprint/MainSail OS
ABL: Inductive probe or Klicky with 3-point bed leveling
Print speed: Up to 300mm/s
HEPA air filter
AC heated bed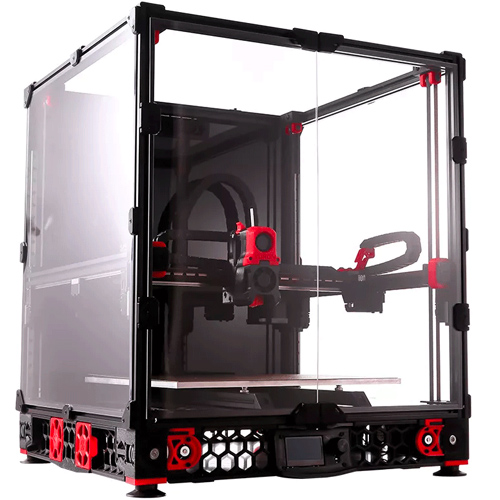 Firmware: Klipper
Print server: Raspberry Pi with Octoprint/MainSail OS
ABL: Inductive probe or Klicky with Quad Gantry Leveling
Print speed: Up to 300mm/s
HEPA air filter
AC heated bed
Rat Rig V-Core 3
Rat Rig V-Core 3 is a DIY CoreXY printer, designed by the Portuguese company Rat Rig. The company specializes in various motion products and OEM components.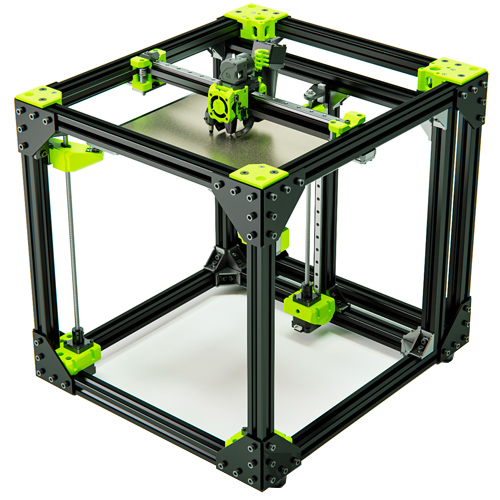 Like Voron Trident, the Rat Rig V-Core 3 features 3-point bed leveling to align the plain of the bed to the plain of the gantry. The frame is extremely rigid. It uses large 3030 aluminum profiles. Each component, prescribed by the designers, is selected to achieve a high level of reliability and print quality.
Like with Voron, 3d printed parts are used for various mounts for the frame, the gantry, the motors, and for the printhead. The toolhead is based on their EVA 3 Carriage System, which allows integration of various hotends and dual drive extruders (Sherpa, Orbiter, DDB, etc.). The control board could be Octopus, Duet 3 6HC, SKR PRO, Spider, etc. The user has a choice of 4 build volumes: 200x200x200, 300x300x300, 400x400x400, and 500x500x500 mm.
You can buy just the mechanics or you can buy all parts from Rat Rig. When selecting premium components and enclosure the total BOM could easily exceed $1700, depending on the size. If you are on a budget you can also source parts yourself from cheaper sources like Aliexpress. The cost may vary by more than 30%.
Other DIY 3d printer projects
The BLV MGN CUBE project becomes popular and its community is constantly growing. From a standard CoreXY DIY 3d printer posted on Thingiverse a few years back, the BLV is now a modern, constantly updated, and performant machine. In its latest version, it offers 3-point bed leveling like the Trident and V-Core and the performance gap between these 3 is small.