The control boards of Ender-3 series of printers control all operational aspects. They collect information from 3d printer instrumentation and translate gcode to execute commands for the stepper motors, fans, and heaters. The Ender-3 control board called also motherboard or mobo, evolved together with Ender-3 newer models. Newer Ender-3 V2, Pro, v2 Neo, S1, and S1 Pro stock motherboards are progressively becoming more open to custom firmware, offering 32-bit processors and silent stepper drivers. So …
Why upgrade Ender-3 control board?
The number one reason to upgrade your Ender3 mobo is to add new functionalities or extensions to your printer. Stock control boards are designed with "just enough" capabilities to operate your Ender-3 model.
Imagine you built an enclosure for your Ender and you want to measure the inside temperature. You will need an additional thermistor, but also an additional thermistor input on your board. If you implement an active heater in your enclosure or if you want to shut down your printer after the print job, this could be done with relays controlled by the motherboard, however, your control board should have additional outputs to control these relays.
Point is that almost every 3d printer enhancement (ex. ADXL for input shaper, relays control, PT1000 support) will require hardware ports stock Ender-3 boards don't have.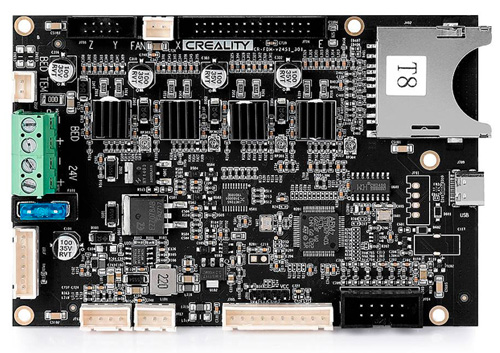 Other reasons to upgrade the Ender3 motherboard are:
Better motion control algorithms – not all Ender3 mobos support UART.
Being able to replace stepper drivers. Unfortunately for Ender3 users, Creality decided to cut costs and solder stepper drivers directly to the control board. It would be still OK, if the drivers were at least TMC2209, however even the latest V2.4.S1 mobo for S1 and S1 Pro has the inferior TMC2208. No linear advance, sorry.
More processing power. It allows you to turn on all desired features of your firmware and assures printing with no hiccups.
Replace faulty board with better one.
Warning! Ender-3 S1 and S1 Pro users be aware that Creality made it a bit more difficult for you to upgrade your control board by unifying several connectors for stepper driver/instruments in one big 30-pin proprietary connector (printhead) and one smaller 10-pin connector. You will need to trace and redo your wiring to match standard boards.
If you are not confident in re-wiring your printer do not upgrade your control board. Instead you can add Raspberry Pi and flash klipper, which will give you more control options and additional ports (from RPI).
Ender-3 motherboard upgrade options
Hereafter is a selection of modern motherboards compatible with Ender-3, Ender3 Pro, Ender-3 V2, Ender-3 V2 Neo, Ender3 S1 (with wiring mod) and Ender-3 S1 Pro (with wiring mod). All of them offer an improvement over stock Ender-3 control boards and better processing power.
BTT SKR MINI E3 V3.0
The SKR MINI E3 V3.0 motherboard is a good and economic upgrade option for Ender3 3d printers. Technical specs and benefits:
4 integrated silent stepper drivers TMC2209. The drivers are soldered to the microcontroller, like in stock boards (not replaceable). They are newer generation though, allowing higher currents and advanced control algorithms like linear advance. Connected in UART by default.
Better drivers cooling with common heatsink.
32-bit mobo with a fast STM processor
Double Z-axis connector
Supports filament runout sensor, print resume, and touch probe, and it adds Printer shut down control and RGB light control (controls Neopixel color lighting on your printer with gcode commands, separate 5V power supply recommended for LED stripes).
Check the current price:
SKR V1.4 / Turbo
Recommend a 2 year old board may be considered blasphemy in the dynamic 3d printing market, yet the SKR V1.4 (Turbo version or not) is still a great upgrade option for all Ender3, Ender5, CR10, and similar cartesian 3d printers in 2023.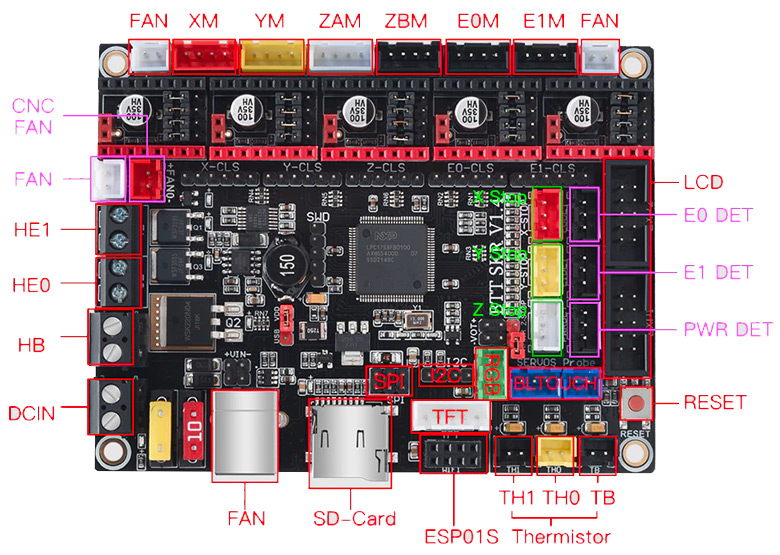 It has it all: 32-bit, 100/120Mhz LPC processor, 5 sockets for removable stepper drivers, UART/SPI/STEP/DIR drivers control selectable with jumper, Neopixel control, Touch probe, two extruders, etc.
This board is proven mature product. Though is not a one-to-one replacement for Ender3 board, you'll find printable adapter mounts/electronics cases for your model on Thingiverse. Tons of information on how to configure it with various firmware, including Klipper, is available on YouTube and Reddit.
Buy it from:
Other motherboards for Ender3
There are other control boards that are suitable for motherboard upgrades of Ender-3 printers. but they are either overkill like the SKR Pro V1.2 or suffer little support and community help. The SKR MINI E3 V2.0 is almost like the V3.0 and would be a good choice if you find it cheaper.